We are just at the beginning of the award implementation process, which starts with developing a Strategic Investment Plan to revitalize our downtown. The State will select a Local Planning Committee made up of community leaders and other stakeholders to lead these efforts, supported by a team of private sector experts and state planners. The Strategic Investment Plan will examine local assets and opportunities to identify projects that align with each community's vision and that are poised for implementation. Funding will be awarded for selected projects from the Strategic Investment Plan that have the greatest potential to jumpstart revitalization and generate new opportunities for long-term growth.
Project Area
The NYF area includes the Village Hall with the Village Library and the Cooperstown Art Association, the National Baseball Hall of Fame and Museum, numerous businesses as well as several vacant or underutilized buildings, two municipal parks, Doubleday Field, the Otsego County courthouse and office complex, and parts of Railroad Avenue and Grove Street with room for greater commercial and residential growth.
MAP Download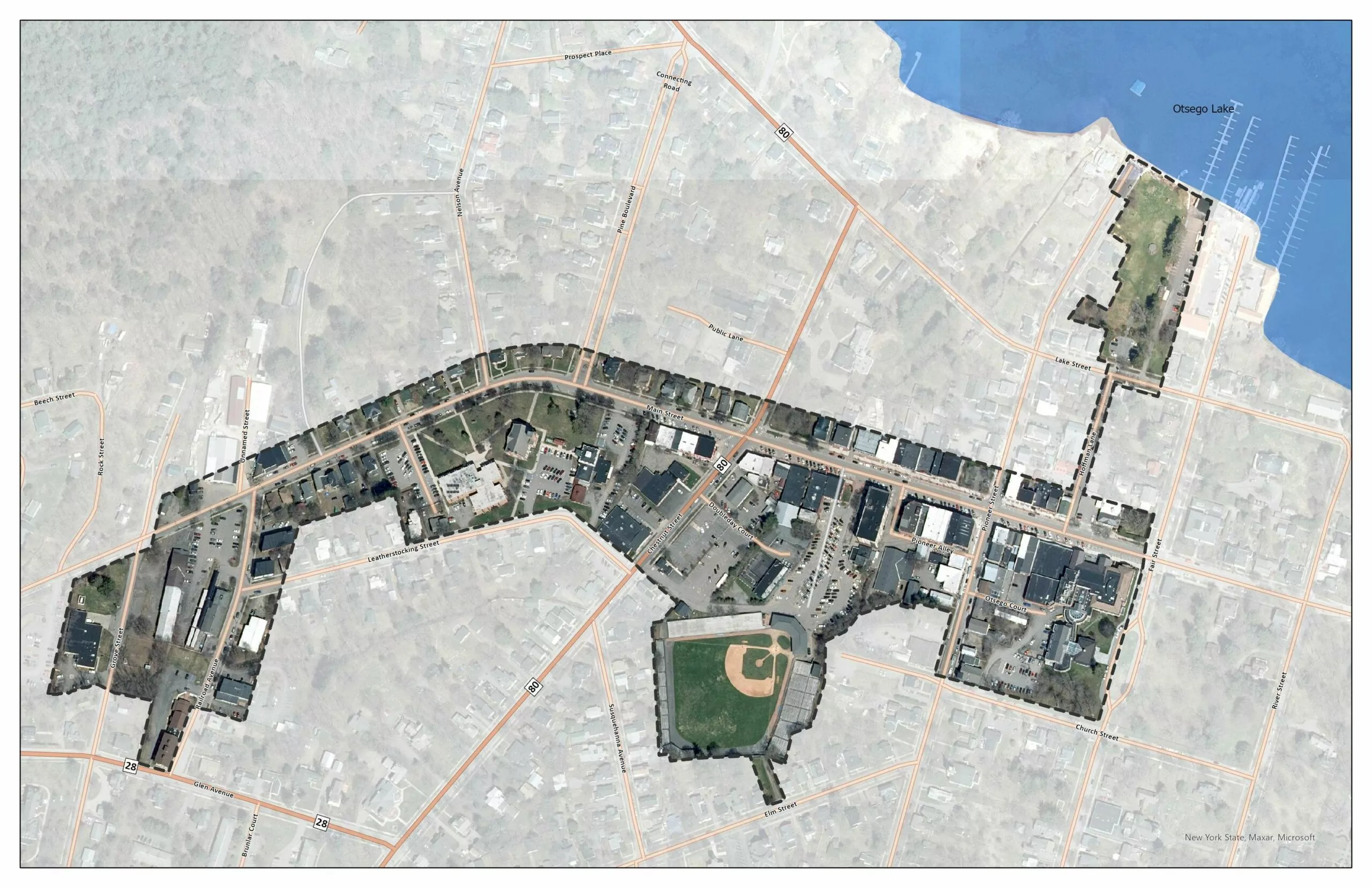 The Village is looking forward to working with the NYS Department of State approved members of our Local Planning Committee. It will be the task of the LPC and its 14 members to develop the Strategic Investment Plan which will identify projects which are ready for implementation and align with the Village's vision as stated in the NYF application. We are excited to begin the process!
Ken Meifert: Co-Chair; MVREDC Council Member; VP – Sponsorship & Development NBHOF
Ellen Tillapaugh: Co-Chair; Mayor, Village of Cooperstown
Carolyn Lewis: Director of Legislative Affairs & Grants, Bassett Medical Center
Tara Burke: Director, Cooperstown Chamber of Commerce
Matt Denison: Owner, Rudy's Liquor Store/Main Street
Sarah Spross: Superintendent, Cooperstown Central School
Keith Gulla: Owner, Landmark Inn
Tom Hohensee: Council Member, Town of Otsego
David Sanford: Cooperstown VFW
Patsy Smith: Village resident; retired business owner, SchoolHouse Kitchen LLC
Josh Edmonds: Simple Integrity, LLC
Brenda Wedderspoon Gray: Director, Clark Sports Center
Jeff Katz: Executive Director, Community Foundation of Otsego County
The NYF planning process will aim to refine the vision, develop actionable goals and strategies, and identify a portfolio of transformative projects that will support the community's vision for downtown revitalization. Deliverables associated with each step will be developed by the consultant team, with guidance from the LPC.
Step 1: Public Engagement Plan
Public engagement will occur throughout the entire NYF planning process to ensure community needs, opportunities and challenges are identified, to determine potential projects, and to ensure NYF revitalization efforts are supported.
Step 2: Downtown Profile and Assessment
The downtown profile and assessment will provide a clear, concise and compelling narrative that articulates the story of the region and downtown area, and describes the future of the area and region. This profile and assessment provides a logical basis for the projects recommended for NYF funding.
Step 3: Community Vision, Goals and Revitalization Strategies
Informed by the NYF application and community input, the LPC will develop a vision statement with corresponding goals and revitalization strategies to guide decision-making about future development and investment in the NYF area.
Step 4: Project Development
NYF projects can be identified through the community's application, during an open call for projects, or throughout the planning process as it advances. The consultant team works closely with project sponsors and the LPC to develop and refine proposed projects. The final slate of projects are intended to have positive and transformative impacts on the NYF community, and will be a mix of public and privately sponsored projects.
Step 5: Strategic Investment Plan Compilation
The SIPs, which will be prepared by the consultant teams, are a compilation of the deliverables produced throughout the process. Each SIP will describe the unique challenges and opportunities for revitalization of the NYF area, present the community's vision for the future of the area, and propose transformative projects that may be realized with an investment of NYF funds.
NY Forward Documentation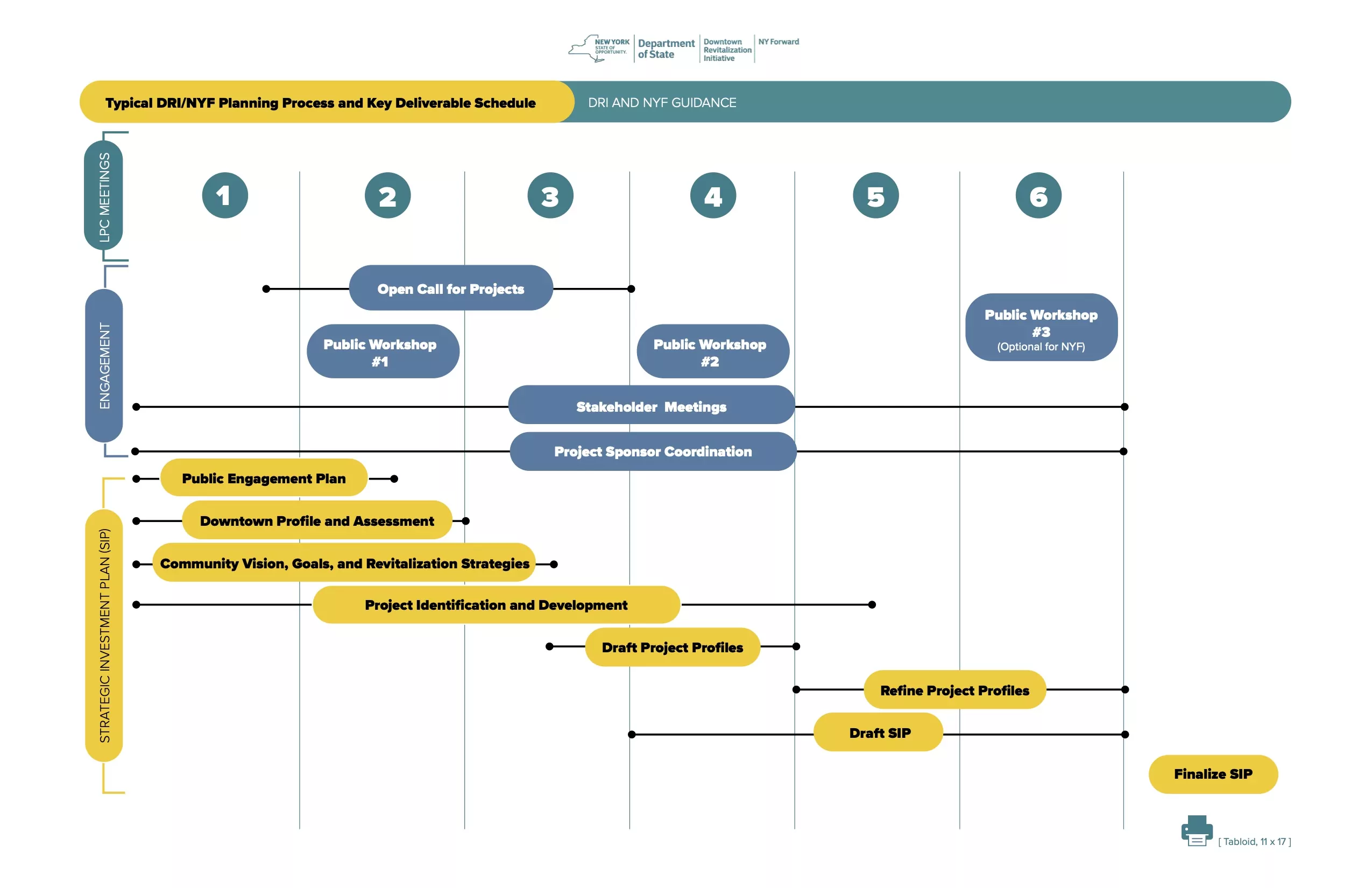 Please click the link below to provide your contact information, receive updates and submit any comments or questions you may have.